Shopping Cart
Your Cart is Empty
There was an error with PayPal
Click here to try again
Thank you for your business!
You should be receiving an order confirmation from Paypal shortly.
Exit Shopping Cart
Books ~ Stationery ~ Gifts
Things I ponder as I go about my day . . .
The stars were out when I came to work this morning. We've had so many rainy/cloudy days lately that it was lovely to see stars glittering against the darkness of the pre-dawn sky.
Often when I wake up very early and am unable to get back to sleep, I head over to the studio. I've always loved getting to work early, before the world is awake; I seem to get so much more accomplished before everyone else is out and about. When I managed the Lowcountry Cottage, I'd crank up the music – LOUD – and sing along with Clay Rice.
If you are not familiar with this Renaissance man, please take a few minutes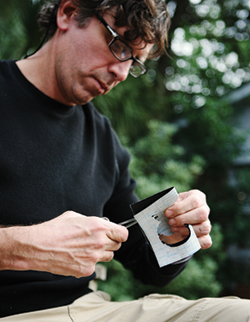 to check out his website (www.ricegalleries.com); Clay is a gifted singer/songwriter (he was once a "tunesmith" in Nashville!), as well as a talented silhouette artist whose work is on permanent display at the South Carolina State Museum.
Much as I admire his silhouette art, I love his songwriting, especially the ones involving Gullah folklore and/or the South Carolina Lowcountry. If my beloved Pat Conroy wrote songs instead of books, these are the songs he would write, full of passion for the land, and sorrow over traditions and a way of life that are fast approaching extinction. These two men tell, in different ways, what is deep in my heart . . . a visceral, overwhelming passion for this part of the world that brings me to tears whenever I think about it.
Another local treasure of a man is David Lauderdale, who writes a  column for our local paper, The Island Packet. I heard David speak at a women's luncheon on Monday – a treat I take advantage of whenever possible. He has the enviable task of talking with long-time residents, learning of their involvement with nature as shrimpers or cast-net artisans; he chats with men and women who were the community leaders who built and/or managed the development of this area; and he shares all of their stories with passion and fire and love. I really hope he writes a book someday!
That I get to live and work in such a place - populated as it is with such inspiring figures as these three men – never ceases to amaze me. So when I arrived at the studio, and just before I went inside, I looked up at that velvet sky and searched for a star to wish upon. What did I wish? Sorry, if I say, it won't come true! But I will tell you that my wish for you is that every day is a wonderful gift whose every moment you open and enjoy fully, savoring whatever comes your way, and appreciating the simple, magnificent people and things surrounding you – that's why it's called The Present.
My mother once told me that, as I grew older, time would pass faster. Of course, I didn't believe her.
But the other morning, as I sat on Harbour Town's pier observing pelicans swooping around in circles over a school of fish just beneath the surface, I realized that, once again, Mom was correct.
Can you believe it's September already? Where has this year gone? It seems like just a few weeks ago that I signed the lease for the studio and began the wonderful (albeit exhausting) task of finding suppliers online. I found magical Zig felt-tipped markers that are such fun, and I'm still learning all the cool things they can do. Pretty colored envelopes, and gold and silver foil lined ones; reams of cardstock (do you know how heavy a ream of cardstock is?); frames made from gorgeous moldings; tapes and glues and glass and mounting board . . . my lists kept growing. When the orders began arriving, I apologized to Meg, the fabulous UPS driver, for causing her such hard work, delivering all of those heavy boxes. I've known Meg for over ten years; she was the UPS delivery person for an art gallery/gift store I managed in Harbour Town, and she is the nicest person you'd ever want to meet. She's a tiny woman, very thin, and I'm always amazed by the ease with which she lifts large boxes. She must have Wheaties for breakfast every morning . . .
As I sat on the pier, I marveled, once again, at the grace of pelicans in the air . . . how they can turn on a dime, or quickly descend to just above the waves, all of them in alignment like a fighter squadron coming in fast and low.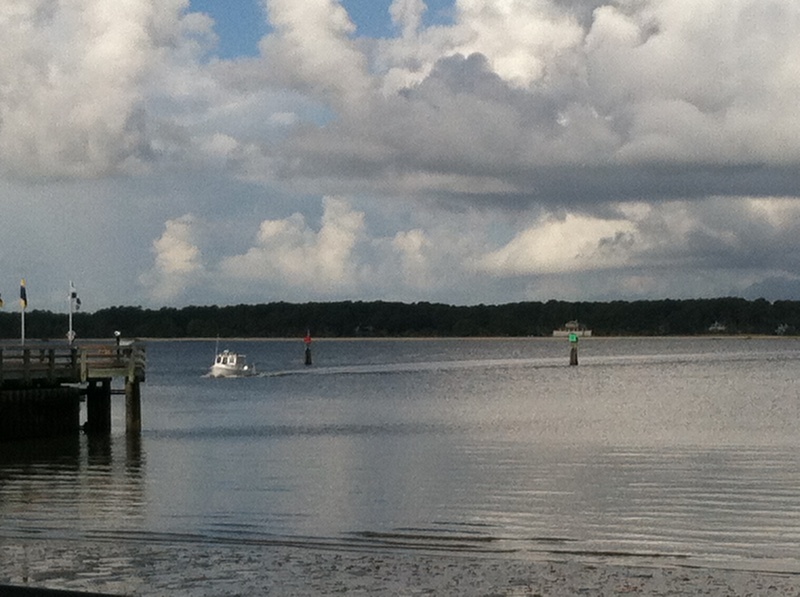 This picture is quite deceiving. It probably brings to mind a crisp fall day; actually, that morning was hot and humid. There's usually a nice breeze by the water, but occasionally the flag at the end of the pier doesn't even budge . . . and then the no-see-ums come out from wherever the darn things hide and they attack without mercy. If you don't know what they are, you're lucky; they're tiny gnats that get in your hair, nose, eyes . . . and they bite! I'll never understand how something so infinitesimal can cause such pain.
We've had an unusual amount of rain this summer, and today is quite cloudy and dark, with the probability of rain around 80%. I doubt that I'll be participating in Market today, since it's held outdoors and water and paper don't mix well. But I'll keep busy in the studio – I'm working on a new website! Even though the website builder is easy to use, basically drag and drop, it still takes me an inordinate amount of time to create a page. But I will carry on! Have a glorious jewel of a day, regardless of the weather where you are . . .
     Many of the tools I use in my work can honestly be classified as "vintage." I'm still using the same Sheaffer fountain pens with calligraphy nibs that I discovered decades ago. (I just framed an article about me that was published in The Salem [Ohio] News on July 29, 1983. Yowza!)
     Of course, I've replaced the nibs several times and ink, especially colored ink, is becoming more difficult to find. I'm left-handed, and need special nibs – if I try to use a right-handed nib, the ink doesn't flow properly and the nib catches on the paper fibers . . . not good. I adore the Zig felt-tipped markers and brushes I found recently, but the fountain pens are my go-to, always-reliable workhorses.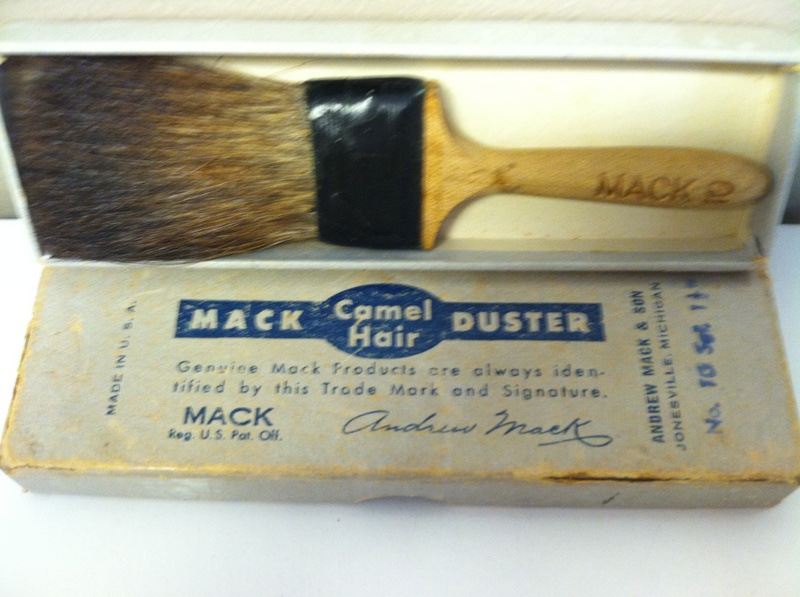 Two of my most cherished possessions are a small camel hair brush and a pair of needle-nose pliers with spiffy red handles.
     The brush belonged to my father, Robert Vincent Oktavec, a talented, creative man who was an airplane/helicopter mechanic by trade, and an artist by the grace of God. He was a gifted photographer (obviously, I did not inherit that talent!) and an equally gifted artist who could sketch a life-like bunny or deer whenever his spoiled rotten little girl asked her daddy to please draw something. In retirement, he took up model railroading and jewelry making. When I found his brush as I was sorting things to use in the studio, I thought it would be perfect for dusting the glass, mat, and paper before framing my calligraphy. There is nothing more annoying than assembling a framing project and then discovering a speck of dust or piece of lint behind the glass! Sadly, the brush is so old that the bristles are loose, and create more litter than they remove! But it 's at my work table, a daily reminder of my daddy's presence, and his unconditional love. I know he would be so proud to see what I'm up to these days.
     The pliers were hastily stashed in my toolbox for the trip from our condo over to the studio and then promptly forgotten until I needed them one day. The first time I used them, they pinched my hand quite hard and when I turned them over, I began to weep – not from the pain, but from what I saw: "Missy" . . .
Michelle Lynn Thompson Hahn was our precious daughter-in-love who married our son, Robert. A brain tumor took her from us when she was only 29. She was the daughter I never gave birth to - bright, funny, beautiful, mischievous, and loving – and the most spiritual person I've ever known. She will be an inspiration and role model to me for as long as I live. I miss her dreadfully, but I thank God for the gift of her in our lives, even for so brief a time. She taught first grade, and the pliers were ones she used in her classroom. When I saw her name, I smiled through my tears and said, "Good morning, Missy!" I have other needle-nose pliers at home, and they've never hurt me. But every time I use these, I get a gentle pinch . . . so I smile and tell my pretty girl hello, and that I love her and miss her.
     As I sit at my light table using the age-old artform of calligraphy to create items people will enjoy in their homes or give as gifts, I am warmed by being surrounded by tools used by special people who have been so very important in my life, making my work even more rewarding.
     Life is, indeed, good.
/